GM unveils a radically new Corvette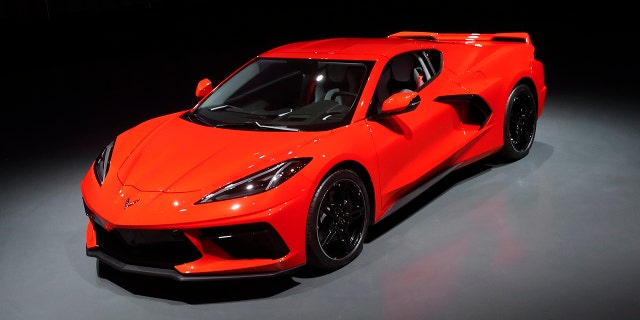 It's the most radical redesign in Corvette's history
Chevrolet unveiled the first mid-engine Corvette in California on July 17th. The Targa-top coupe is powered by a 490 horsepower, 6.2-liter pushrod V8 that sits under a clear cover and drives the rear wheels through a quick-shifting, eight-speed dual-clutch automatic transmission. No manual is being offered.
With 465 lb-ft of torque, Chevrolet says it can accelerate to 60 mph in under 3.0 seconds when equipped with the optional Z51 package and performance exhaust. The Stingray's chassis is primarily made of aluminum and dressed in fiberglass body panels, in keeping with Corvette tradition.
The interior features a squared-off steering wheel, a full-digital instrument cluster, a central tablet-style display canted toward the driver and a long row of buttons and toggles situated on a raised ridge between the seats. Behind the motor is a trunk large enough for two golf bags or the Targa roof panel, while a smaller compartment in the front can hold a carry-on bag.

The 2020 Corvette Stingray enters production late this year. Exact pricing hasn't been announced, but GM President Mark Reuss said it will start under $60,000, which is close to what the current Stingray goes for and about the same as a 300 hp Porsche 718 Boxster. A full-convertible version will be offered.

We are pleased to present…
Mike Tortorello, Service Consultant
High Performance Specialist at Libertyville Chevrolet
Mike looks forward to meeting you and providing you with all your service needs for your special Corvette.
Dealership: 847-362-1400 Direct Line: 847-932-3151
New Raffle Location Requirement

The NCM has changed the rules for the Corvette Raffle. You are now required to be physically located in Kentucky to purchase a raffle ticket through the NCM website. You do not have to be a resident of Kentucky, but you must be physically located in Kentucky at the time of purchase. As before, you may purchase tickets at the museum or at the Motorsports Park.

If you are located in Kentucky you may use your personal computer or mobile device to purchase tickets on the NCM website. The NCM uses a variety of geo-location technologies and methods to verify your location. When you register or update your account on the NCM website you must consent to have your location verified.
If you are not located in Kentucky and wish to participate in the raffle, you may do so by downloading and completing the form below and sending it to:

Northfield, IL 60093
Please include a check for the ticket fee. Jerry will submit your form, along with your payment, to the NCM for processing.